Moderator: Longman
Aah... well, thieves are tolerable in Sonja's view. She'd also be ok with some pirates.
Freya HP 24/24 AC 16 (17 two weapons)
Kilian HP 20/20 AC 19 (18 no shield)
Talin HP 29 AC 16
Tiana HP 11 AC 12 SP 8/8
Fido HP 9/9 AC 16
Anna HP 12/12 AC 15 (19 defensively)
Bruce HP 20/20 AC 16 (15 no shield)
Red Oak map
Red Oak loot
I wouldn't have to call you angry lady if you would tell me your name, I'm fully prepared to co-operate and work together. Its just easier that way. And really, I'm just in it for the money so while I'm with you, you would be better off watching your wallet than your back.
"If I have seen further it is by standing on the shoulders of Giants."
While the others squabble over the precise virtues of being a real pirate, a thief, or a 'Dis Nee' pirate, the magic user takes a moment to cast a spell on the jungle. It does not radiate magic of any kind.
You press on for a total of 4 hours, in which time you go no more than 3 miles and realise it might be harder to reach the mountains than you thought. You still have a full day and a half to go. You are dripping with sweat and the mosquitoes are about to come on, and you are thinking about making a camp, or at least having a rest, when something some bursting out of the jungle in front of you all.
It's about 8' high and it looks like this: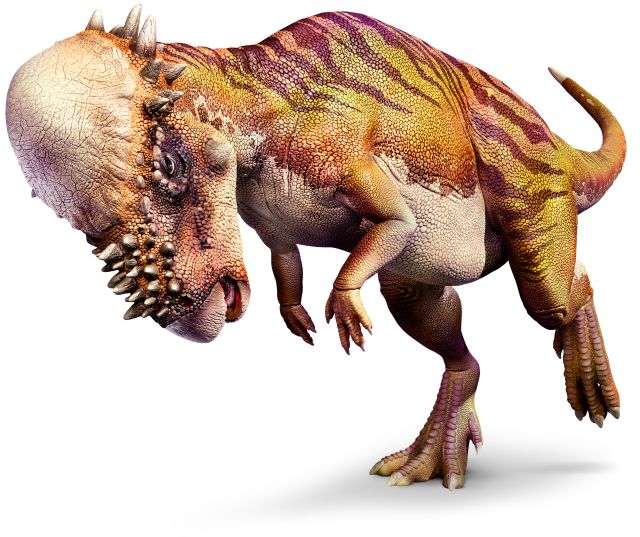 It's making a weird bellowing noise, and you are not quite sure if it is going to charge you, or run away. You think you can hear other creatures like this in the distance - half a mile away? There's some nearby monkeys going beserk, and the whole place is suddenly very noisy and panicky.
Nobody is surprised, except Sonja, who can't act this round. The other 4 characters all beat it for initiative.
Go! (I'll give you a day or so and then do an NPC action for your character.)
Everyone remain calm.

I say let it be if it doesn't come after us.
Saracen draws his sword and lifts his shield in a defensive manner towards the creature eyeing it cautiously.
(Saracen declares active block against the creature.)
This creature does not appear to be a predator which means it must be running away from something that is much more scary than itself. It might therefore be prudent once we have identified the intent of this creature to move rapidly in the direction it runs, if it does so, as I for one do not want to be face to face with whatever this thing is running from.
Last edited by
SerGavin
on Sat Oct 31, 2015 8:34 pm, edited 1 time in total.
"If I have seen further it is by standing on the shoulders of Giants."
Yuan-Cheng has been silently listening to all the chatter. At the approach of the animal, he climbs a tree and watches.
Jaali readies his pistol. He will shoot in the air trying to scare the creature if it moves towards the group.
The dinosaur's reaction is 'unfavorable'. It charges headlong towards the magic-user, Maju.

The strange and uncharismatic Chinese monk, Yuan-Cheng, climbs a tree, getting about 5' in the air and out of the way. The halfling thief, Jaali, fires his pistol above the creature's head in an attempt to frighten it. This seems to work well and the strange lizard changes course by 30 degrees and keeps moving.

The shot rings out around the canopy. Birds and monkeys scatter.

Saracen, standing firm with cutlass raised, does not think anything was chasing it. He thinks it was just heading this way.

So...unless anyone really wants to kill the the thing...it's 6pm and you just saw a dinosaur. You can hear more in the distance. You can't go much further today or you will be fatigued tomorrow. Now what? Make camp?

PS - Jaali - keep track of your powder.
On second thoughts it does not appear to be very panicked, and all I have are dried rations for food, so I say kill it.
Saracen stretches out his right hand and two bright blue glowing missiles of light shoot forth from his fingers, trailing white lightening out behind them they arc towards the creature.
"If I have seen further it is by standing on the shoulders of Giants."
"What in the nine hells was that thing ?"
Jaali looks scared. He then see Saracen throwing a spell to the monster.
"What are you trying to do, getting us killed ?"
Jaali then hold his pistol towards the creature and will shoot if it turnaround and charge, trying not to aim the top of the head because it looks really hard.
No, I'm trying to get us dinner!
"If I have seen further it is by standing on the shoulders of Giants."
Users browsing this forum: No registered users and 3 guests